Heya everybody!
Hope you all had a great weekend! We had a whirlwind followed up now by a bit of a crash and burn. It started early Friday morning with driving to San Jose so that Eric could help a friend with his race car, which meant that Brittny would have been sitting with nothing to do, except that she knows the very best scrappy lady in all of San Jose! My good Kiwi friend Shell is the owner of
Scrapgrlz
, and has always put on
great retreats
, but has also recently opened up a shop! You can shop, crop, and trust me, you will eventually drop! I was finally able to make it over there on Friday to see it, and OMG it is fantastic! Lots of goodies to buy, space to crop, and tools to play with, too! You have to go check it out! And be sure to stop by her
online shop
if you're not in the area - she has great deals and does lots of giveaways on her
blog
!
So after I saw the shop, I headed back to the land of the race car, obviously with lunch for the hungry men, and slaved in the sweltering heat for hours and hours and hours. Okay, it was maybe two hours, and it wasn't exactly sweltering. But it was hot! And I was wearing pink. And the mere thought of a grease stain on my frilly pink top was enough to make me perma-cranky.
After the boys finished on the car and got it all loaded into the trailer, we headed to Fresno to my Mamala's house to drop me off for the weekend. YAY! The boys continued on down to Bakersfield to do their manly car racing business, and I got to stay and have fun with my mom. We went to see Crazy Stupid Love, and wowee wow wow - it was SUCH A GOOD MOVIE!! Seriously, you HAVE to go see it. I crazy stupid LOVED it!
Flash to late Friday night. Eric calls to say that his friend ran his car into the wall, and they are officially done racing for the weekend. Wow. Okkkaaaaaaaaay. So the nice, blissful day and a half that I had planned with Mamala changed into a nice blissful 18 hours because home the boys came!
But all was not lost, no sir. This just meant that Eric and my sis's boyf could repair my mom's fence a day earlier than he planned, and wouldn't have to take a day off of work after all. BUT the minor repairs turned into a total recall, and not even humpty dumpty could have survived this one. But never fear, they are total fencing geniuses and got it up in record time. Ha ha Kate, I know, I know, "that's what she said." By Sunday afternoon it was all done, so Eric did a little tree pruning and we were on our way home!
And can I say, it's good to be home? I spent a few hours yesterday working on my scrap pile which seems like it grows exponentially overnight, and I can never get a hold on it. I made a few cards and am going to be butterfly punching, accordion folding, and whirligiging the sweet bejesus out of that pile until it is under control!
Here's a few little things I made: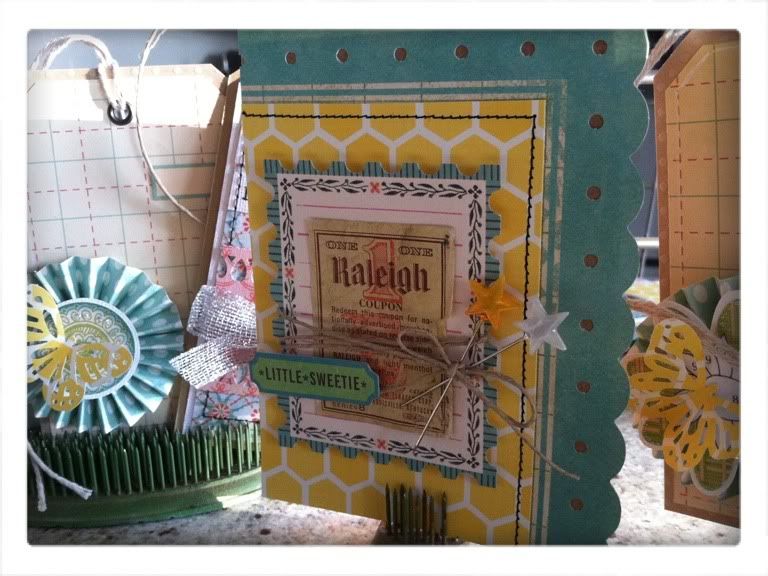 I used a combination of my Mary Ellen and Salt Water Taffy kits for this one. It's hard to tell, but it is actually an A2 size card. I cut the scalloped paper to hang over the top and right side of the card.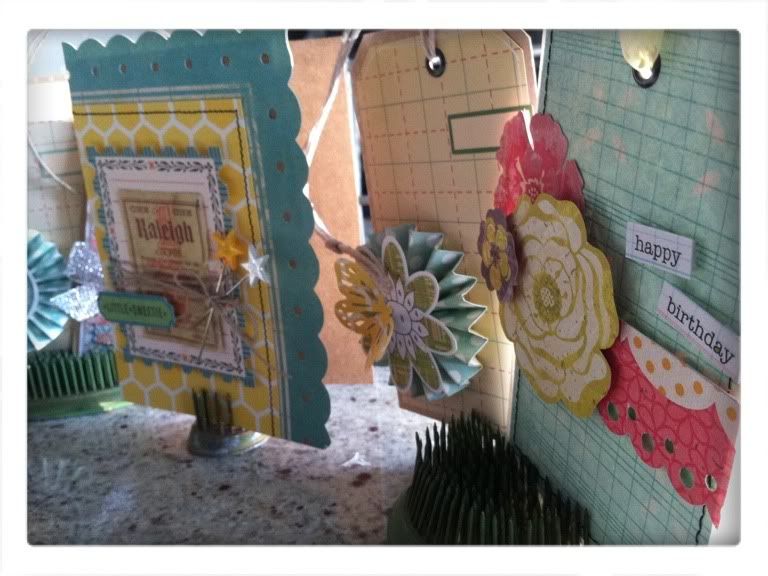 A couple of tags I made using some more of my past Noel Mignon kits. LOVE that Crate Paper Restoration flower paper. I'm a fussy cutter and proud!
I got the idea for this little tag from
Gretchen's cards she did last week
. Love the little sideways pennants!
That's all for today - happy scrapping!